A Month Or so ago I Linked up With

Jessie

to Participate in a Autumn Exchange! Be on the lookout for her Winter/Christmas Exchange. It was a Great way To meet a Brand New Blogger friend and also I had a Blast getting creative thinking about the Theme "AUTUMN" and what made me think of Autumn and what I could send her! I was Partnered with

Mama P

over at

keeper of the Penguins
I shipped Out My Package On Monday Morning, and after arriving Home in the Late afternoon, I arrived to find a package Awaiting me! As I Opened The Box I found a Bright Orange Tote bag with a Ghost on the front. I received 2 Stuffed Toys Halloween Related, a Frankenstein, and a Vampire, a Package of Chili, some Halloween themed Plastic rings with eyeballs or a black cat, a snack Bag size of Pumpkin cookies (which were delicious) the Mr. Enjoyed the cookies too! She also Sent a Bag of goldfish for the Lo who of course opened the bag and poured out all the colorful fish but did not eat a single bite! and she also Hand wrote me a little Note. It was exciting not Knowing what she would send especially since I'm not one for surprises! But I would do another exchange if the opportunity presented itself.
You can see what Items I sent Her
Here
Through My Eyes -Ladii Aponte
After Seeing The Button On
Boobies
and
Christy's
Page I decided to hop on Over and check It Out! I had seen it before but never really bothered to read into it since My schedule has been super Hectic! Well after reading It Tonight I have decided to Join in, in Making My Blog
carbon neutral
. You Should check it out. I am now carbon neutral. They will plant a tree to counteract the effects my blog and Your Blog will have. So Hop On Over
Check It out
and Go Green
Or
Pink[with the cute pink buttons!]
!
Moving On To My FunFawkintastic Friday Fawk You's
Although This Happened Wednesday Im still Mad because its not the first time this happens BUT...
-Fawk You
to the Dirty Bitch that Cut Me off In the Bloom Parking lot and took my 20 minute Parking Spot Making me park 2 spaces Away!
-Fawk You
to this Flippin Car that finally when we think everything is done the inspection Passed it is Now having a battery Failure and have to Now spend another $100 Bucks to Replace the damn thing UGH
-Fawk You
to this weather I will say It AGAIN
FAWK YOU
!!! BIpolar ass had Us on tornado watch we went from cold as heck to hot as hell Over Night the Humity is Crazy and the house is Hot as Balls
-FAWK YOU
to the Mr.'s Job who Just suddenly Decided to cut Back all employee Hours Minimizing Our damn Paycheck!
-FAWK you
to Store-All-Storage for charging me a $10 Late fee for paying 1 day late! Normally they give me a Flippin call reminding me that my payment is due so I usally Just say Ok charge it But This time they just charged me a Late fee! DAMN BASTARDS! [its $10 but STILL!]
-Fawk You
to the Guys on My Soccer Team! Treating us women Like we are just their to Smile Look Pretty and meet their Damn Girl Quota!
FUCK YOU
! Keep Messing with Me and Ill keep SLamming into You Elbowing you when You try and take the Ball from me and I hope you wear a CUP because I WILL continue to try and kneee you in the balls if you get In my WAY! Im on the Team To Play! [And Ive advised the other Girls that If they want to play they better get aggressive so WATCH OUT!]
OK That was a Long List Of Fawk Yous But I wait all Week and hey I have to vent!
Dont Forget...
-To Link Up Today For Finally Fridays Blog Hop [Still Looking for a CoHost]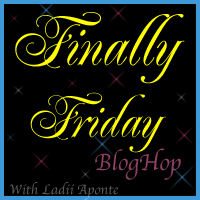 -To enter in Positively Positives Give away!
Have a GREAT Friday and an AWSOME Halloween Weekend