Well its tuesday time to meet some new people!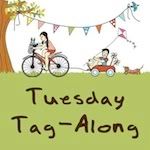 1. If you could host a Reality TV show, which one would it be?
Club or Americas next top Model haha Or Maury
2. Do you put your seatbelt on before or after you start the car?
4. What's your favorite feature in a house?
A dishwasher! Lol and a Balcony
5. What is your favorite "Fall" scent?
Fall Scent?!?! The Scent of a cool Breeze and not that summer heat or Humidity!
6. What tv show are you looking forward to seeing the most this Fall??
Tv for a while its Just Jays Channel
7. Personal Shopper or Personal Chef?
Not sure I like doing Both But I guess Personal chef!
8. What is the first word that comes to mind when