So in Order to keep busy, while My Candles burn for My Little Angels I decided to answer some Questions. LO is awake and I dont want to get sad and start crying over them because I do not like Him to see me cry! If they would be here now My Little Man Jayden Wouldnt be!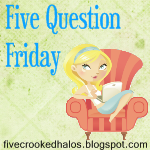 Questions
1.
What is your favorite Halloween candy?
Anything Chocolate! I think imma say reeses cups yum! and snickers!
2. Do you fold your socks?
I Roll them into a ball is that considered folding?
3.
What is something that you wish you had been warned about?
Marriage! geez! I didnt think that by getting Married id become this Niggas mom! lol "baby wheres my white shirts?" UM DID YOU PUT THEM AWAY?? "No" then there still in the laundry basket! Lol Complete baby! Like have you LOOKED for them or you just wanna skip a step and ask me! but its Ok Cuz he does other stuff for me like leave me the hell alone when i need some MEE Time!
4.
What is the most significant difference between you and your significant other?
our personalities! We are complete Opposites, as different as night and day, Im the crazy Loud Mouthed, Impatient, short tempered, all around Bitch and he well he is quiet level headed SANE, understanding ,and does what ever I want unlike me who wil have to see if i will lol
5. What are three words you would use to describe yourself?
(And, just for fun...if your significant other is around, ask him/her what 3 words they would use to describe you!!)
their favorite term for me!
Lol She just thinks im completely Twisted
Bitch-well every one else lol including the Mr.
( i wonder if he means in genereal or in bed haha Didnt ask!
( damn right nigga better say that)
_________________________________
I was also tagged By Positively Positive to answer some questions so here goes!
1. What is you favorite song right now?
- I dont Know Im so Out of the Music thing right now
2. Your Christmas traditions?
Dinner with the Family on Christmas Eve Usually at My Grandparents restaurant but Last year everyone went over to My House ( yes it was alot of people) and Open Presents after Midnight But last year we let LO open 1 at Midnight and the rest in the Morning!
3. Name a favorite movie or several?
-Grease! hands Down Love it!
4. Early Bird or Night Owl?
-Definitely a Night Owl I hate waking Up early!
5. What is your favorite perfume?
-Irresistible by Givenchy
6. What item must be with you at all times?
My Cell Phone! Lately It hasnt been a big issue I barley use it I think I havent charged it in like 5 days onli when im riding in the car so yea its damn near dead!
7. Favorite childhood toy?
Oh God I have no Idea. My Bike? I cant really remember playing with anything specific
8. Your go to pair of jeans....you know the ones =)....what brand are they?
Right Now None! I hate Jeans! but winters coming around so Im sure I will learn to love them lol I love leggings Shorts Skirts dresses maybe sweats.