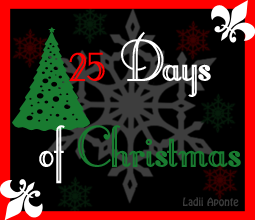 Feel Free to Join in just do 2 posts for Today ( click the button for a full list of the 25 days)
Day 2- Have you started Christmas Shopping Yet? if yes when did you start? if No when do you plan to start?
Kind of, We have started buying a few things here and there DVD's for the LO, and little games, even a Santa Suit, but as far as toys... Nope. We have bought him so much recently, Mostly TS3 themed ( a Toddler bed, the movies ( all 3) Woody, Buzz, The potatoe, The green car, the aliens... you get the picture) That it just seems a little redundant to be out shopping for ore of the same kind of toys, which is what we keep finding ourselves looking at in stores, and what he seems to want. We plan to continue to buy him little things here and there and just like last year, Mommy will get him something on her own, Daddy, will get him something on his own, something from the both of us, and then 1 gift from Santa, along with the ittle things we've bought him.
Moving on, I have received Yet another award, this time one I had some control over. I comment alot there for I won this award. Thanks to
Christy
over at
My Mad Mind
for giving me this award, and also congrats to all the other award winners whom won Runner up, and Honorable mention.