Be sure to check out their blog and try their Hubby and Wifey Brain Teazer...
Lol I have won them twice[the only 2 times i entered and of course WON]
There are no rules. Give it to as many or as few people as you would like. Heck you don't even have to pay it forward. Just have fun with it!
I wont be giving It to any One as of right Now But might later on during the day =D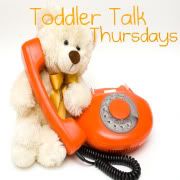 This week's topic is : Creating Art with a Toddler
My LO Loves Color anything to do with Markers Crayons Paint even Make up only problem, he isn't Too fond Of paper! lol! We hand him Crayons and well They must taste real good because he's always trying to eat them... So is the Dog, I think I might just have to try one! We dont give him too much stuff to
Destroy
Color with since he thinks of our house/room as his canvas, and well I dont have the energy to chase him down and then clean up the walls. if you read Yesterdays post, You would have read Of him being
devious
Sweet enough to let us sleep In while he
Destroyed the floor
Created art! was it a beautiful gesture? of course hes my prince! was it wonderful to spend my morning trying to get Bright Vibrant Colors out of our white carpet? Not so much! and of course Mommy wasn't too happy to know that her Semi New Make Up Palette had been Used for this
Destruction of the carpet
Creation of carpet Art
Heres an idea
I HAVE NOT
tried with LO yet But I did read it in another Mommas Blog... Painting with Yogurt. She Used plain white Yogurt and added food coloring to a few dishes and mixed it with the yogurt and used it as finger paint on Paper! Smart Idea this way Its edible too! Let me know if any one tries this Have a great Thursday!