I Cannot believe December is here already. Where has this year gone? It feels like just yesterday The Mr. had separated from the Navy, we had moved into our new townhouse, and were getting ready to take our monster on his first trip to Puerto Rico to meet my inlaws. Now it is one year later and I have no idea what the plans are for his birthday, let alone Christmas... Anyways we had a very Busy day Which started at about 5AM and is going to have to end a Little shortly after 1AM because I have work in the morning. Hope everyone enjoys their first day of December!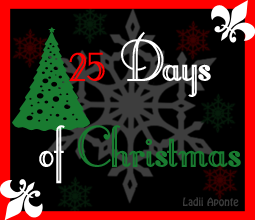 To get the Full List and Join in Click the Button or click
here
Day 1- Have You been Naughty or Nice this Year?
This year, Hmmm, I think I have been a little of both. For the most part I think I've been nice. Nothing to the extreme that would take me off of Santas Nice List... and the naughty things I have done I'm sure would still keep me on his Nice list lol.