Hello Yall! Its week 7 Of Finally Friday and I would Like to introduce to You My new Co Host Angela from
"Mommy Time Out"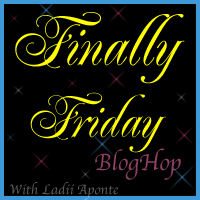 Now The
Rules
-Grab the Button Post it in todays Blog Post
-Follow Me( a Must) and My Co-Host (Angela)
-No Give aways
-Follow any one who follows You
- If you are a new follower leave a comment so we can return your follow
Thats It!
Be sure to check out My Give away its as Easy as being a follower and commenting On the post! Its a Matching Pendant and Pocket mirror Winners Choice!