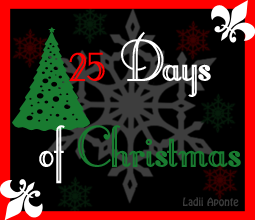 25 Days of Christmas
Day 12- When and How did you learn the truth about Santa?
Well when we were really young there was one boy we used to play with whom would always say santa wasnt real! my parents assured us he was. On a trip to florida his family came with us, and he again said he wasn't real and my dad assured us he was. Santa had found us all the way in Florida, and had forgotten his wrapping paper lol. Well by age 8 (I was always a
nosey
Curious one) it was easter, and we had gone easter egg hunting that morning, and as i go into my moms room I spot something yellow from under a table clothe from a decorative table she had in her room. I peek under to find non other than ALL the little peeps jelly beans and chocolate and extra eggs that had been in our eggs! I of course ran to tellmy sister and that is the day my mom told us about Santa, the Tooth Fairy, The easter bunny, and who ever else makes you spend extra money n your kids lol.